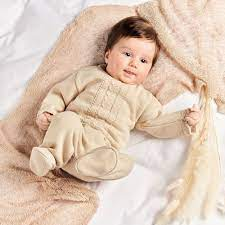 The birth of a baby is always a joyous occasion. Along with the endless moments of bonding and warmth, comes the delightful process of choosing the right attire for your newborn. Amid the plethora of colors and designs available today, one shade stands out for its elegance and timeless appeal – beige. A beige newborn outfit isn't just a piece of clothing; it's an ideal embodiment of classic style that perfectly complements the innocence and purity of your little one.
The Timeless Appeal of Beige
Beige, with its neutral and warm tone, is a color that exudes calmness, simplicity, and versatility. Unlike vibrant shades that can sometimes overshadow the cute and delicate charm of a newborn, beige maintains a balance. It accentuates the baby's natural hues and makes them look even more endearing.
Perfect for Every Occasion
Whether you're planning a day out, a cozy day in, a party or a special photoshoot set to capture the early moments of your baby's life, a beige outfit is perfect. It's subtle, allowing other elements of the picture, especially your baby's expressions, to shine through.
Pairing with Accessories
The beauty of beige lies in its adaptability. From cute little hats to booties, shoes, bows, shoes or headbands, almost any accessory can be paired with a beige outfit, creating a harmonious look that's both chic and adorable.
Fabric Choices
When picking out a beige newborn outfit, fabric choice is paramount. Organic cotton, bamboo, and muslin are popular choices. These materials are soft against the baby's sensitive skin and ensure maximum comfort. Furthermore, they look exceptionally graceful in the delicate shade of beige.
Styles to Explore
There are countless styles available in beige for newborns:
Rompers: Easy to wear and change, rompers in beige are a classic choice. Opt for ones with subtle patterns or lace trims for added charm.
Gowns: Perfect for a serene sleep or those early baby photos, gowns in soft beige tones radiate elegance.
Two-piece sets: These can include a combination of beige pants with a matching top, allowing for flexibility and style at the same time.
Dresses: For little princesses, beige dresses, especially with gentle ruffles or floral motifs, can make them look like a dream.
Gender-Neutral Advantage
Another advantage of beige is its complete gender neutrality. Whether you have a boy, a girl, or are keeping it a complete surprise, beige is always a safe and stylish bet. It also allows for easy hand-me-downs among siblings or friends, ensuring the outfit gets maximum use without any gender biases.
Embellishments and Patterns
While solid beige outfits are undeniably graceful, don't shy away from patterns. Beige combined with soft whites in stripes, dots, or other gentle patterns can make details and accessories of the outfit pop while retaining its refined look.
Caring for Beige Outfits
While beige is beautiful, it's also a color that can show stains easily. Always have a bib ready during feeding times. Also, invest in a good stain remover and follow washing instructions meticulously to keep the baby and outfit looking fresh and new.
Layering with Beige
Layering adds depth to any outfit. A beige onesie paired with a slightly darker beige sweater or a light beige blanket can create a delightful layered look, perfect for colder days.
Gifting Beige
If you're looking for the ideal, perfect baby shower gift, a beige outfit is an easy and excellent choice. It's not just about the color, but the thought that a neutral, elegant, and versatile outfit will always find its place, no matter the baby's gender or the parents' style preferences.
Inclusion in Memory Boxes
Many parents keep their baby's first outfit as a keepsake item. A beige outfit, timeless in its appeal, can be a beautiful reminder of those early days, making outfits of it a popular choice for memory boxes.
Choosing the Perfect Baby Outfit
The joy of picking a baby outfit is incomparable. Those tiny little dresses, jumpsuits, and even the smallest socks bring a world of happiness. As your tiny tot is about set to embark on their journey of firsts – the first smile, the first step, the first word – it's essential that they look their part! Here's a guide to help you select the perfect outfit for your precious one.
Choosing Baby Unisex Clothes
When it comes to dressing our little ones, many modern parents are steering clear of the traditional blues for boys and pinks for girls. Instead, they find they're gravitating towards unisex baby clothes—a trend that's not only stylish and sustainable but also breaks away from the age-old gender stereotypes. Here's a closer look at why unisex baby clothing is the talk of the town and how you can hop on this bandwagon.
Conclusion
Choosing the right outfit for your newborn is a blend of comfort, style, and practicality. Beige, as a color, embodies all these attributes. In a world constantly chasing trends, a beige newborn outfit stands out, reminding us of the timeless joys of parenthood and the unparalleled beauty of simple things. When picking out that first outfit or adding to the collection of your baby's wardrobe, remember to consider beige, a shade that's as endearing as the little one wearing it.
You can find more information on our website, Itty Bitty