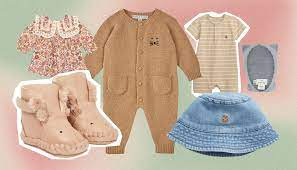 In the world of fashion, it's not just the grown-ups who get to shine. Boutique baby fashion has taken the world by storm, offering a wide range of stylish and comfortable clothing options for our little ones. Whether you're looking for adorable onesies, trendy outfits, or even tiny accessories, boutique baby fashion has something for every baby. In this article, we'll explore the world of boutique baby fashion, discussing the latest trends, tips for shopping, and the benefits of choosing high-quality, unique pieces for your precious bundle of joy.
The Rise of Boutique Baby Fashion
Boutique baby fashion is more than just dressing your baby; it's a way to express your love and style as a parent. With the increasing popularity of boutique fashion for babies, you have more options than ever to find unique and high-quality clothing for your little one. Here's a closer look at what makes boutique baby fashion special:
1. Handcrafted and Unique Designs
Boutique baby clothing is often handcrafted, which means your baby won't be wearing mass-produced items. This uniqueness allows your baby collection to stand out and showcases your individual taste.
2. High-Quality Fabrics
Boutique clothing for babies is made from premium materials, ensuring your baby's comfort and safety. The soft fabrics used in these outfits, shoes and hats are gentle on your baby's sensitive skin.
3. Exclusive Styles
Boutique fashion offers exclusive styles and collections affordable kids that you won't find in regular baby stores. These clothes are designed with creativity and flair, making your baby look stylish from day one.
4. Personalized Touch
Many boutique baby fashion brands offer personalized options, allowing you to add your baby's name or a special message to their clothing.
What's in Trend for Boutique Baby Fashion?
Now that we've explored the charm of boutique store baby fashion let's delve into the latest trends in this adorable realm:
1. Vintage-Inspired Outfits
Vintage baby fashion is making a comeback with a collection of timeless designs and delicate details, making your little one look like a classic star.
2. Earthy Tones
Natural, earthy colors are gaining popularity in baby fashion, creating a calming and soothing look perfect for your baby.
3. Sustainable and Organic Fabrics
Many boutique brands are focusing on eco-friendly and organic fabrics, promoting sustainability and comfort for your baby.
4. Gender-Neutral Clothing
Boutique store baby fashion is increasingly embracing gender-neutral designs, allowing all babies to enjoy stylish clothing choices.
Tips for Shopping for Boutique Baby Fashion
When shopping for boutique baby fashion, it's important to keep a few things in mind:
1. Sizing
Ensure you have the correct measurements for your baby to choose the right size. Boutique clothing can sometimes have a unique fit.
2. Material
Check the material of the clothing to make sure it's soft, breathable, and suitable for your baby girl's delicate skin.
3. Budget
Boutique baby fashion can be more expensive than traditional one, so set a budget to avoid overspending.
4. Reviews and Recommendations
Read reviews and seek recommendations from other parents to find trustworthy boutiques.
Baby Boy
Welcoming your baby girl or baby boy, is a heartwarming experience filled with love and joy. By preparing a nurturing environment, attending to his essential needs, and fostering a strong emotional connection, you lay the foundation for a happy and healthy childhood. Embrace each moment, seek support when needed, and relish the beautiful journey of parenthood.
Spanish Baby Clothes
Dressing your baby in Spanish-inspired clothes is a delightful way to infuse a touch of elegance and tradition into their wardrobe. From traditional rompers to charming accessories, there's a wide array of options that combine style and comfort for your little one. Explore the world of Spanish baby fashion and enjoy the journey of curating a wardrobe that reflects both cultural charm and contemporary elegance.
Boutique baby fashion allows you to dress your little one with style, comfort, and uniqueness. The latest offers and rising trends in this fashion sector offer an array of choices to make your baby look adorable and fashionable. Embrace boutique baby fashion to create beautiful memories and style your baby with love and care.
FAQs
1. Is boutique baby fashion affordable?
Boutique baby fashion can be more expensive than mass-produced clothing, hats and shoes, but the quality and uniqueness justify the cost.
2. Can I find boutique baby fashion online shop?
Yes, many boutique baby fashion brands have online stores, making them affordable prices and it convenient for parents to shop from home.
3. Are boutique baby clothes for sale here machine-washable?
Most boutique baby clothing items for sale here are machine-washable, but it's always a good idea to check the care instructions.
4. How do I choose the right size for my baby in boutique clothing?
Check the boutique's size chart and measure your baby to ensure you select the right size.
5. What makes boutique baby fashion different from regular baby clothing?
Boutique baby fashion is known for its unique designs, high-quality materials, and a range of personalized options, setting it apart from traditional mass-produced baby clothing.