When it comes to dressing your precious bundle of joy, every detail matters, right down to their tiny toes. Socks for infants not only keep your baby's feet warm and cozy but also add a touch of style to their adorable outfits. In this article, we'll guide you through the process of choosing the perfect pair of baby socks for infants just for your little one.
The Importance of Infant Socks
Infant socks serve multiple purposes beyond keeping those tiny feet warm. They provide a layer of protection, help babies regulate body temperature, and prevent irritation caused by friction between the newborn, delicate skin and shoes.
Considerations When Buying Infant Socks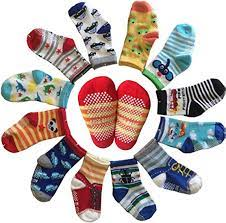 – Material and Fabric
Opt for soft, breathable, and hypoallergenic fabrics like cotton, bamboo, or a blend of natural fibers. These materials ensure comfort and reduce the risk of skin irritation.
– Size and Fit
Choose baby socks that fit snugly but aren't too tight. Look for socks with a flexible stretch to accommodate your baby's growing feet.
– Non-Slip Features
Many infant socks come with non-slip grips on the soles to provide traction as your baby starts exploring the world through crawling and first steps.
Types of Infant Socks
– Ankle Socks
Ankle socks are versatile and work well with a variety of socks and tights of outfits. They cover just the ankles, making them perfect for warmer weather or when you want to show off those cute baby leg rolls.
– Crew Socks
Crew socks have a higher cut and provide extra coverage for the lower leg. They're great for cooler days and can be paired with dresses, shorts, tights, or pants.
– Knee-High Socks
For a touch of vintage charm and added warmth, knee-high socks are an adorable choice. They look precious with dresses, skirts, or even under pants.
Socks for Infants: Stylish and Adorable Designs
Infant socks come in a delightful array of designs, patterns, and colors. From cute animal motifs to classic stripes and polka dots, you'll find a range of options that complement your baby's wardrobe.
Caring for Infant Socks
To keep your baby's socks looking their best, follow these care tips:
Wash socks in mild detergent and cold water.
Use a gentle cycle to prevent stretching and wear.
Avoid using fabric softeners, as they can reduce grip on non-slip socks.
Air-dry or tumble dry on a low setting to prevent shrinkage.
Where to Buy Quality Infant Socks
You can find quality infant socks and baby tights at baby boutiques, department stores, and online retailers. Look for brands that prioritize comfort, safety, and durability.
The Importance of Baby Socks
Baby socks serve more than just an aesthetic purpose. They offer insulation to your baby's delicate feet, helping to regulate body temperature and preventing discomfort caused by shoes rubbing against sensitive skin.
Infant socks are more than just a wardrobe staple; they're a tiny but important part of ensuring your baby's comfort and style. By considering factors like material, size, and non-slip features, you can choose a pair of socks that not only keep those little feet cozy but also add an adorable touch to match your baby's everyday look.
9. Frequently Asked Questions (FAQs)
When should I start putting socks on my baby? You can start putting socks on your baby from birth to provide warmth and comfort.
Do I need non-slip socks for my baby? Non-slip socks can provide traction as your baby starts to move around and explore. They're especially useful for preventing slips on smooth surfaces.
How many pairs of socks do I need for my baby? It's a good idea to have several pairs of socks on hand, as babies can go through multiple pairs in a day due to spit-ups or diaper leaks.
Can I use regular socks for my baby? While regular socks can be used, infant socks are designed with features like soft fabrics and non-slip soles to cater to your baby's specific needs.
Are there specific sock sizes for different age ranges? Yes, infant sock sizes are often categorized by age ranges, such as 0-3 months, 3-6 months, and so on, to ensure a proper fit.