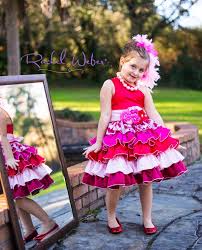 The frilly dress, often synonymous with femininity, nostalgia, and an almost ethereal grace, has graced our wardrobes for centuries. It has seen a range of incarnations from the grand ball gowns of the Victorian era to the delicate sundresses of today. But what is it about the frilly dress that has made it stand the test of time, and how has it evolved to suit the modern woman?
The Origins of the Frill
The frill or ruffle, as a decorative motif, can be traced back to the 16th century. The Spanish were particularly fond of their "golilla", a pleated collar made famous by the Habsburgs. This fashion statement then traveled to England, where it took on its own unique styles.
By the late 18th and early 19th century, ruffles became larger and began appearing at the hemlines of dresses. The Victorian era, with its penchant for excess and flamboyance, embraced the frill with open arms. The hoop skirt, adorned with white ruffles, became an iconic look of this age.
Frilly Dresses in Pop Culture
Fast forward to the 20th century, and the frilly dress made significant appearances in pop culture. Who can forget Scarlett O'Hara's iconic blue and green ruffled dress in "Gone with the Wind"? Or the numerous frilly dresses worn by the ladies in classic films like "Pride and Prejudice"?
The '80s, with its flair for the dramatic, in style also saw a resurgence of the ruffle, especially in evening wear. Pop icons like Madonna and Prince incorporated frills into their unforgettable looks.
The Modern Frilly Dress
The 21st-century frilly dress is versatile. It has become less about volume and more about placement. A delicate frill on the collar, a ruffled sleeve, or a tiered hemline – the modern frilly dress can be as understated or as bold as one desires.
Brands ranging from high street to haute couture are experimenting with the frilly dress this season. They blend fabrics like lace, chiffon, and organza, creating layers that play with transparency and structure.
Styling the Frilly Dress
While the frilly dress is a statement in itself, how you choose to accessorize can define the look:
For a Bohemian Vibe: Pair a frilly sundress with ankle boots, layered necklaces, and perhaps a floppy hat. Soft waves in your hair complete this relaxed, boho look.
The Classic Approach: Think stilettos, a clutch, and pearls. Ideal for a date night or an elegant evening event.
Edgy and Modern: Combat boots, leather jackets, or oversized blazers can add an unexpected twist to your frilly dress.
Casual Day Out: Sneakers and a frilly dress? Yes, please! Throw in a tote bag, and you're ready for a day at the beach or a picnic in the park.
Caring for Your Frilly Dress
Given the delicate nature of frills, special care is essential:
Hand Wash: If the fabric allows, hand washing is the best. It prevents excessive pulling, which can distort the shape of the frills.
Drying: Always dry flat. If you must hang, use a padded hanger to reduce stress on the shoulders.
Storage: Store in a cool, dry place. For very delicate or vintage pieces, consider garment bags.
Frilly Dresses: Not Just Feminine
One common misconception is that pink frilly dresses are exclusively feminine. In recent years, gender lines in fashion have blurred. Many designers are creating frilly pieces for all genders, embracing fluidity and breaking traditional norms.
Ruffle Dresses
From the bustling ballrooms of yesteryears to the chic streets of today's fashion capitals, ruffle dresses have always been in the limelight. They exude a blend of classic elegance with a dash of dramatic flair, making them a wardrobe staple for many. Let's delve into the world of ruffle dresses and explore their allure.
midi dresses
Midi dresses refer to dresses that have a hemline that falls midway between the knee and ankle. It is a versatile style that can be dressed up or down and is flattering on most body types. Here are some details and styling tips for midi dresses:
Types of Midi Dresses:
A-line Midi: Flares gently out from the waist, creating an "A" shape. Flattering for most body types.
Pencil Midi: Skims the body closely, much like a pencil skirt but in dress form. Great for more formal occasions.
Wrap Midi: Closes by wrapping one side across the other and knotting or tying the fabric. Typically offers a V-neck and is great for enhancing curves.
Slip Midi: A streamlined silhouette resembling a slip (an undergarment). It's often made of lightweight, satiny fabrics.
Tiered Midi: Features horizontal layers or tiers of fabric, which can add volume and movement to the dress.
Styling Tips:
Shoes: Midi dresses can be paired with almost any footwear. Sandals or espadrilles for a summer look, ankle boots for a fall transition, and heels for a dressier occasion.
Belts: Adding a belt can accentuate the waist and change the silhouette of the dress.
Jackets & Cardigans: Layering with a leather jacket, denim jacket, or cardigan can add depth to the outfit.
Accessories: Statement earrings, necklaces, or a hat can elevate the look depending on the occasion.
Legs: In colder weather, you can wear tights or knee-high boots with a midi dress.
Women's Ruffle Dresses
Ruffle dresses are a style of dress that incorporates ruffled fabric, adding texture, volume, and a feminine touch. Ruffles can be bold and large or delicate and subtle, and they can appear on various parts of a dress, including the neckline, sleeves, waist, hem, and even throughout the body of the dress.
Types of Ruffle Dresses:
Ruffled Hem: This style features ruffles at the hemline, which can add a playful touch to the dress.
Ruffled Sleeves: These have ruffles on the sleeves, be it cap sleeves, short sleeves, or long sleeves. This style can add volume to the upper body.
Ruffled Neckline: These dresses showcase ruffles around the neckline. They can be subtle or a major focal point.
Tiered Ruffle Dress: Comprises several layers (or tiers) of ruffles, often seen in maxi or midi dresses.
Full-Body Ruffle: The entire dress may have cascading ruffles throughout, providing a dramatic look.
In Conclusion
The frilly dress, while rooted in history, remains ever-evolving. Its adaptability to changing times, cultures, and personal styles makes it an evergreen piece in our wardrobes.
Whether you find you're wearing a frilly dress to evoke a sense of nostalgia, make a fashion statement, or merely because it makes you feel fabulous, there's no denying its charm. Here's to the frilly dress – may it continue to enchant for centuries to come!
You can find more information on our website, Itty Bitty