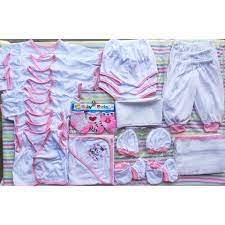 Welcoming a newborn into join your family is a momentous occasion filled with joy, anticipation, and a whirlwind of preparations. As you prepare to bring your little one into the world, having the right newborn set at your disposal is essential. In this blog post, we'll explore the must-have items for your baby's first days, ensuring you're well-equipped to provide the best care and comfort for your precious bundle of joy.
Newborn Set: The Newborn Essentials Checklist
Baby Clothes: Soft, comfortable onesies, sleepers, and bodysuits are a must. Look for items with easy snap or zip closures for quick changes.
Swaddle Blankets: Swaddling can help your baby feel secure and sleep better. Invest in a few swaddle blankets for a good night's rest.
Diapers and Wipes: Stock up on diapers in various sizes to accommodate your baby's growth. Don't forget gentle baby wipes for easy clean-ups.
Feeding Supplies: Whether you choose to breastfeed or bottle-feed, you'll need supplies like baby bottles, breast pumps, and formula (if applicable).
Nursing Pillow: A nursing pillow can provide added support during breastfeeding, ensuring both you and your baby are comfortable.
Baby Crib or Bassinet: Ensure a safe and comfortable sleeping space for your little one. Make sure it meets safety standards.
Baby Monitor: A baby monitor allows you to keep an ear and eye on your baby, even when you're in another room.
Changing Table: A designated changing table can make diaper changes more convenient.
Baby Bathing Supplies: Gently cleanse your baby with a baby bathtub, baby shampoo, and soft washcloths.
Healthcare Essentials: Have a baby thermometer, nasal aspirator, and baby nail clippers on hand for health and hygiene needs.
Baby Car Seat: Ensure a safe and secure car seat for bringing your baby home from the hospital and for future travel.
Baby First Aid Kit: Prepare a basic first aid kit with baby-friendly items like baby-safe ointments and baby paracetamol.
Baby Clothes and Laundry Supplies: Stock up on gentle baby detergent and baby-safe fabric softener for your little one's laundry.
Personalised Items
Consider adding a personal touch to complete your newborn set with customised items:
Baby Name Blanket: A blanket with your baby's name on it can become a cherished keepsake.
Personalised Onesies: Personalised onesies or outfits add a unique touch to your baby's wardrobe.
Baby Birth Announcement: Create custom birth announcement cards or digital announcements to share the news with loved ones.
Baby-Proofing and Safety
When preparing for your newborn's arrival, it's never too early to start thinking about creating a safe environment for your little one. As your baby grows, make sure to install safety gates, secure heavy furniture, and protect sharp corners to ensure that your newborn set is in a secure and baby-friendly space.
Where to Shop
You can find these products and baby essentials at local baby stores, major retailers, or online shops that specialise in baby products. Look for items that are of high quality and meet safety standards.
The Basics of Organic Cotton
Organic cotton is cultivated following a set of strict standards and practices that are designed to protect the environment and promote ethical and sustainable farming. Here's what sets it apart from conventional cotton:
1. Pesticide-Free Farming:
Organic cotton is grown without the use of synthetic pesticides and insecticides. Instead, natural alternatives are employed to protect the crop from pests.
2. Non-GMO Seeds:
Organic cotton is typically grown from non-genetically modified (GMO) seeds, preserving biodiversity and preventing potential genetic contamination.
3. Sustainable Practices:
Organic cotton farming focuses on maintaining healthy soil through crop rotation and reduced water consumption.
4. Reduced Chemical Use:
The production of organic cotton uses fewer harmful chemicals, creating a healthier working environment for farmers and reducing the risk of chemicals contaminating water sources.
5. Ethical Labour:
Organic cotton is often produced under fair labour conditions, ensuring that workers are paid fairly and operate in safe, healthy environments.
The Classic Wardrobe Staple: T-Shirts for Every Occasion
T-shirts are arguably one of the most versatile and timeless pieces of clothing in our wardrobes. They're comfortable, easy to style, and suitable for a wide range of activities and settings. Whether you're dressing up for a night out or keeping it casual for a day at the beach, a well-chosen t-shirt can be the perfect fit for any occasion. In this article, we'll explore the world of newborn set t-shirts, offering tips on how to make the most of this classic piece of clothing.
The Versatility of T-Shirts
T-shirts are available in various styles, fabrics, and cuts, making your purchase of them adaptable to different fashion preferences and needs. Here's a quick look at the types of t-shirts you can find:
Crew Neck: The classic t-shirt style with a round neckline, suitable for a timeless, casual look.
V-Neck: A variation with a V-shaped neckline, ideal for a more sophisticated and slightly dressier appearance.
Henley: Featuring a partial button-down placket, Henley t-shirts offer a casual yet stylish choice.
Graphic Tees: These t-shirts often feature images, slogans, or designs, allowing you to showcase your personality and interests.
Long Sleeve: Perfect for transitional weather, long-sleeved t-shirts provide extra warmth and style.
Pocket Tees: T-shirts with a chest pocket for added functionality and visual interest.
Dressing Up with T-Shirts
Casual Day Out:

Pair a classic crew neck t-shirt with jeans and sneakers for a comfortable yet stylish daytime look.
Add a cap or sunglasses for a touch of flair.

Smart-Casual:

Combine a well-fitting V-neck t-shirt with chinos and loafers for an effortlessly refined appearance.
Layer with a blazer or cardigan for a more polished look.

Active Wear:

Choose moisture-wicking and breathable t-shirts for workouts or outdoor activities.
Pair with athletic shorts or leggings and sports shoes.

Night Out:

Elevate your t-shirt game with a dark-colored, well-fitted Henley t-shirt.
Team it up with slim-fit trousers and stylish boots for a night on the town.

Beach Days:

Opt for a light and breathable long-sleeved t-shirt as a beach cover-up.
Match it with swim shorts and flip-flops for a laid-back vibe.
Choosing the Right Fabric
T-shirt fabrics can vary from soft and breathable cotton to moisture-wicking performance materials. Consider the following when selecting your t-shirt fabric:
Cotton: Classic and comfortable, perfect for everyday wear.
Cotton Blends: Offer added durability and moisture-wicking properties.
Performance Fabrics: Ideal for athletic activities, designed to keep you cool and dry.
Linen: Provides excellent breathability, making it a summer favorite.
Adorable Accessories for Your Newborn
Welcoming a newborn set into your family is an exciting and joyous occasion, and one of the most enjoyable aspects is dressing up your little bundle of joy. Beyond the essential clothing and baby gear, you have the delightful opportunity to discover and explore a world of charming accessories that can enhance your baby's style and comfort. In this guide, we'll explore some of the cutest and most practical accessories for your newborn.
Baby Hats
Baby hats are not only adorable but also functional. They help keep your baby's head warm and cosy, especially in the first few months when they might still have limited control over their body temperature. Here are some types of baby hats to consider:
Beanie Hats: Snug-fitting, stretchy hats that cover your baby's head and ears.
Sun Hats: Wide-brimmed hats that provide shade and protection from the sun.
Knit Caps: Soft, woolly caps perfect for chilly days.
Baby Booties and Socks
Tiny baby booties and socks are not only practical but also incredibly comfy and cute. They help keep your baby's feet warm and protected. Look for options with non-slip soles once your baby starts to move around.
Baby Headbands
If you have a baby girl, consider adding some lovely newborn set headbands to her wardrobe. These accessories can add a touch of charm to any outfit. Look for headbands made of soft, stretchy materials to ensure your baby's comfort.
Baby Mittens
Newborns often have sharp little fingernails that can accidentally scratch their delicate skin. Soft baby mittens can prevent this and keep your baby boy's hands warm.
Bibs
Bibs are a must for keeping your baby clean during feeding times. Look for bibs that are easy to put on and take off and can be machine-washed for convenience.
Swaddle Blankets
Swaddle blankets are not just for swaddling a newborn; they can also serve as versatile accessories. You can use them as a light blanket, a nursing cover, or even a makeshift changing mat in a pinch.
Baby Bow Ties and Hair Clips
For special occasions or simply to add a touch of style to your baby's look, consider tiny bow ties for boys and hair clips for girls. These accessories can be a fun addition to your baby's wardrobe.
Baby Sunglasses
If you're heading out into the sun, especially with a newborn, baby sunglasses can protect their eyes from harmful UV rays. Look for sunglasses designed for baby comfort and safety.
Baby Blankets
Soft and snuggly baby blankets are versatile accessories that can be used for swaddling, as a pram cover, or simply for cuddling and comfort.
Preparing for Parenthood
Welcoming a new baby into your life is an exciting journey. While there is much to prepare, having the right newborn set can alleviate some of the stress and help you focus on the joy of becoming a parent. With these essentials in place, you'll be well-prepared for those first precious days with your baby. Congratulations on the upcoming arrival of your little one!