Welcoming a new baby home alone is an exciting yet overwhelming experience, especially for first-time parents. The pressure to ensure you have everything in place can be daunting. If you're in the UK and asking yourself, What do I need for a newborn UK?, you're not alone. Here's a comprehensive checklist tailored to those preparing for a baby in the British context.
Newborn Baby Essentials
1. Sleep Essentials
Moses Basket or Crib: Ensure it comes with a firm, flat mattress.
Baby Bedding: Invest in fitted sheets, light blankets, or baby sleeping bags. Remember, duvets, pillows, and heavy blankets are not safe for babies under one year.
Room Thermometer: To ensure your baby's room stays at a comfortable 16°C to 20°C.
2. Clothing
Bodysuits & Sleepsuits: At least 6-8 of each. Opt for pure cotton and make sure they're easy to put on and take off.
Hats & Mittens: Babies lose heat through their heads, so hats are essential, especially during colder months. Mittens prevent them from scratching their faces.
Socks or Booties: For keeping those tiny feet warm.
Cardigans: 1-2 should suffice for layering during cooler weather.
3. Feeding
Breast Pump: If you plan to breastfeed, a pump can be handy.
Bottles & Teats: Essential for formula feeding or expressed milk.
Sterilising Equipment: Whether it's a cold water steriliser, microwave, or electric steriliser, it's a must-have for keeping feeding equipment germ-free.
Muslin Squares: Useful for burping and general clean-ups.
4. Nappy Changing
Nappies: Whether you choose disposable or cloth, stock up for the initial weeks.
Baby Wipes: Fragrance-free ones are gentle on the baby's skin.
Nappy Bags: For clean disposal when you're on the go.
Changing Mat: A portable one is useful for changes at home or while out and about.
5. Bath Time
Baby Bath or Bath Support: Designed to support newborns safely.
Baby Towels: Soft, hooded towels are perfect for wrapping up your baby after a bath.
Gentle Baby Shampoo & Body Wash: Opt for mild, fragrance-free formulas suitable for sensitive skin.
6. Health & Safety
Baby Thermometer: Opt for a digital ear thermometer for accurate readings.
Baby Nail Scissors or Clippers: Their nails grow surprisingly fast!
Car Seat: Ensure it's UK-approved and suitable from birth if you plan on driving with your baby.
7. On the Move
Pram or Pushchair: Ensure it's suitable for newborns with full lie-back features.
Baby Carrier or Sling: Great for hands-free days out or soothing a fussy baby.
Changing Bag: A spacious bag with compartments for nappies, wipes, and other essentials.
8. Miscellaneous
Dummy/Pacifier: Some babies find comfort in them, though it's a personal choice.
Baby Monitor: Particularly useful if your baby will sleep in a separate room.
Baby Feeding Essentials
Whether you're a new parent or a seasoned pro, ensuring that your baby is well-fed is always a priority. The world of baby feeding can seem vast and sometimes confusing, so having a clear checklist of essentials can be a real lifesaver. Here's a breakdown of baby essentials checklist of everything you'll need to feed your little one, whether you're breastfeeding, bottle feeding, or introducing solids.
1. Breastfeeding Essentials
Nursing Bras: Designed to provide extra support and allow easy access for feeding.
Breast Pads: To absorb any milk leaks and keep you dry.
Nipple Cream: Helps soothe and heal sore or cracked nipples.
Breast Pump: Useful for expressing milk, either to increase supply, allow someone else to feed the baby, or store milk for later.
Milk Storage Bags or Containers: For storing expressed milk in the fridge or freezer.
Nursing Pillow: Provides support to position the baby comfortably during feeds.
Nursing Cover: For those who prefer some privacy when breastfeeding in public.
2. Bottle Feeding Essentials
Baby Bottles: Have several in various sizes. Some babies might prefer certain teat shapes over others.
Teats: These come in different flow rates, from slow to fast, to suit your baby's age and feeding style.
Sterilizer: Options include electric steam sterilizers, microwave sterilizers, or cold-water sterilizing solutions.
Bottle Warmer: For heating up cold or frozen milk to the right temperature. (Alternatively, you can use a jug of warm water.)
Bottle and Teat Brush: Specifically designed to thoroughly clean bottles and teats.
Formula: If you're not using expressed breast milk, you'll need baby formula. Ensure it's suitable for your baby's age and dietary needs.
Thermal Bottle Carrier: Useful for keeping bottles warm when you're out and about.
3. Introducing Solids
High Chair: Ensure it's stable and comes with a safety harness.
Baby Bowls and Plates: Ideally, they should be sturdy and have a suction base to stick to the table or high chair tray.
Baby Spoons: Soft-tipped spoons are gentler on baby's gums.
Sippy Cups: These help transition from bottle or breast to a regular cup.
Bibs: Waterproof or easy-wash bibs can protect clothing from spills and mess.
Blender or Food Processor: Handy for making purees when you start introducing your baby to solids.
Food Storage Containers: Useful for storing batches of homemade baby food in the fridge or freezer.
Mesh or Silicone Feeder: Allows the baby to chew on fruits and vegetables without the risk of choking.
4. Extras
Burp Cloths: Essential for wiping away any dribbles or milk after feeding and for placing over your shoulder when burping your baby.
Feeding Schedule or App: Helps keep track of feeding times, especially useful in the early days.
Gripe Water or Colic Drops: Useful to have on hand for times when your baby might have digestive discomfort.
What is a Moses Basket?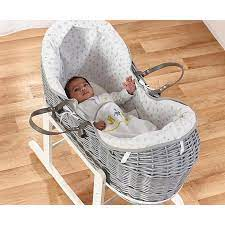 A Moses basket is a lightweight, portable basket made primarily of woven palm, maize, wool or cotton and other materials, designed to accommodate sleeping newborns. Often lined with fabric and padded for added comfort, it provides a snug environment for babies.
Why Choose a Moses Basket?
Portability: Being lightweight, Moses baskets can be easily moved from one room to another, ensuring your baby can always be close by.
Compactness: For homes with space constraints, Moses baskets occupy minimal space compared to cribs or cots.
Coziness: The compact nature of a Moses basket offers a snug environment, which can be comforting for newborns, replicating the close confines of the womb.
Aesthetics: Often beautifully crafted, Moses baskets can be a stylish addition to any room.
Affordability: Generally, Moses baskets are more affordable than larger cribs or bassinets, making them a cost-effective choice for the initial months.
What is a Baby Sleeping Bag?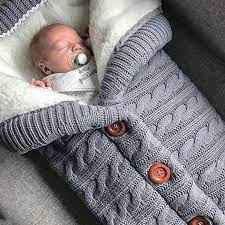 A baby sleeping bag is a wearable blanket designed specifically for infants and toddlers. It has armholes or sleeves, a neck opening, and a zipper or snaps, typically running down the front or side. The design ensures that the the baby's face and head remains uncovered during sleep, thereby reducing the risk associated with loose bedding.
Benefits of Baby Sleeping Bags
Safety: One of the primary advantages is safety. It reduces the risk of Sudden Infant Death Syndrome (SIDS) by preventing the potential suffocation hazards posed by loose blankets.
Consistent Temperature: It helps maintain a consistent temperature throughout the night, reducing the risk of overheating.
Convenience: Simplifies bedtime routines. There's no need to tuck in multiple blankets or adjust sheets.
Portability: Handy for travelling or when the baby sleeps away from home.
Adaptable: Comes in various tog ratings (thermal grades) to cater to different room temperatures and seasons.
Baby Clothing Essentials
Dressing a baby is both a joy and a challenge. With countless adorable outfits and baby products available, it's easy to get overwhelmed. But amid the myriad of options, some essentials form the bedrock of a baby's wardrobe.
Baby Clothing Essentials: Dressing Your Little One Right
Dressing a baby is both a joy and a challenge. With many baby items and countless adorable outfits available, it's easy to get overwhelmed. But amid the myriad of options, some essentials form the bedrock of a baby's wardrobe. Let's explore the foundational pieces every baby needs, ensuring they're comfy, safe, and ready for all their tiny adventures.
1. Bodysuits (Onesies)
Short-Sleeved: Perfect for warmer days or layering.
Long-Sleeved: Provides added warmth for cooler days.
These are staple items as they can act as a base layer in winter or a standalone outfit in summer.
2. Sleepsuits (Footies/ Rompers)
One-piece outfits that cover the feet, they're ideal for bedtime but versatile enough for general wear too.
3. Vests
Usually sleeveless and lightweight, they're perfect for layering under other garments to provide an extra layer of warmth.
4. Hats
Beanies or Soft Caps: Keep a baby's head warm, especially since newborns can't regulate their body temperature as adults do.
Sun Hat: For protecting against the sun on bright days.
5. Mittens
Scratch Mittens: Prevents babies from scratching their faces with their tiny nails.
Warm Mittens: For winter months, if you're living in a colder climate.
6. Socks and Booties
Even if you're using footed sleepers, having a few pairs of socks is beneficial. Booties can provide an extra layer of warmth and can be decorative.
7. Cardigans and Jumpers
For cooler weather, a soft cardigan or jumper can be layered over a bodysuit.
8. Trousers or Leggings
Soft, elastic-waisted trousers or leggings are comfortable and versatile. They pair well with bodysuits.
9. Special Occasion Outfit
While not an "essential" in the strictest sense, having a special outfit for photos or family events can be a delightful addition.
10. Seasonal Wear
Jackets or Coats: Ensure they are easy to put on and remove and are appropriate for the climate.
Snowsuits: For babies experiencing winter climates.
Swimsuits and Sun Hats: If you're introducing your baby to the pool or beach.
11. Muslin Cloths
While not clothing, these are essential for feeding times, baby can lie flat as burp cloths, or even as lightweight blankets.
12. Bibs
For feeding or when the baby begins teething and drooling more.
What is an Infant Car Seat?
An infant car seat is specifically designed for newborns and young babies. Unlike convertible car seats that can adapt as the child grows, infant car seats are rear-facing and typically cater to babies from birth up to 12-15 months, depending on the model and the baby's size.
Why is an Infant Car Seat Important?
Safety: In the event of an accident, an infant car seat provides vital protection to the baby's fragile neck, spine, and head.
Legislation: In many countries, it's a legal requirement to have an appropriate child restraint system when travelling with a baby in a car.
Convenience: Many infant car seats come with a detachable base, allowing parents to move the baby from the car to a stroller or indoors without disturbing them.
What Do I Need for a Newborn UK? Baby clothes
Babies grow very quickly. All you need for the first few weeks are enough clothes to make sure your baby will be warm and clean.
You'll probably need:
6 stretch suits (all-in-ones) for both day and night, or 4 stretch suits and 2 nightdresses (nighties) for the night – use socks or bootees with the nightie if it's cold
2 cardigans, wool or cotton rather than nylon, and light rather than heavy – several light layers of clothing are best for keeping your baby warm
4 vests
a shawl or blanket to wrap your baby in
a wool or cotton hat, mittens, and socks or bootees for going out if the weather is cold – it's better to choose close-knitted patterns rather than those with a loose knit, so your baby's fingers and toes will not get caught
a sun hat for going out if it's hot or the sun is bright
Washing your baby's clothes
There's no evidence that using washing powders with enzymes (bio powders) or fabric conditioners will irritate your baby's skin.
Carrycot on wheels
A carrycot is a light, portable cot with handles, similar to but smaller than the body of a pram, and often attachable to a wheeled frame.
Your baby can sleep in the carrycot for the first few months, and the cot can be attached to the frame to go out.
Preparing for a newborn in the UK can seem like a monumental task, but with the right baby checklist, it becomes manageable. Remember, while having the essentials is important, there's no need to buy everything brand new or get caught up in the latest gadgets. Often, simplicity is key, and your love and attention are the most crucial ingredients in your baby's early days.